After the corporate US media lifted climate censorship last month, a host of intelligent editorials on climate by US pundits appeared over the past few weeks. Scroll down to '
ENLIGHTENMENT
' below.
The first spate of reports about possibly
apocalyptic
ramifications of climate change have popped up in the mainstream news (8.11). At the same time, a poll this month (8.11.) shows that while eighty percent of Americans have gotten over their climate denial, most of them, 53 percent, don't see what the fuss is all about. Only 25 percent think that global warming is the biggest environmental challenge facing the world (news
here
, survey
there
). Still, while the US remains the top climate-changer of the planet, with a per-capita carbon footprint five times that of the average Chinese citizen's, one impression half a year ago (1.27.08) has already jelled into fact:
Bush is left isolated as America turns green
.
Meanwhile, biospherical thumbscrews did tighten again a notch. Arctic summer ice melted last week at a rate never seen before, raising the possibility that the North Pole may be cornflower blue
not in a few decades
, as suggested in last month's climate review, but in a few years' time --
2013
is the date tossed around now. (Informative is Tamino's review of
melt data 8.13
.)
Another update to the last entry concerns scary temperature rise. In July I thought that average temps will be up at least
3.3 C
by 2100. Now it appears, so the current & the former chief science advisors to the UK Dept of Environment, Food, and Rural Affairs, B. Watson and D. King, we're looking at a 20 percent likelihood of a
4 C rise
. (2007, if memory serves, that probability had been 5 percent.) A 4 C rise would mean creeping from the danger zone into the killing zone. A planetary increase of 4 C or 7.2 F annual mean temperature entails three consequences: it will wreck agricultural productivity, crash biodiversity (the little that's left), and start runaway climate change.
(Useful is C. Colose's review of global
warming projections 8.6
.).
Added to '
OTHER CLIMATE BLOGS
' at right:
The Climate Post
, from Sweden. Greetings!
CLIMATE PHILOSOPHY
Heidegger, Politics, and Climate Change--Risking it all
, by Ruth Irwin, is forthcoming by Continuum; I expect to post the review on the blog in a few weeks' time.
Essays in Philosophy
announces a
call for papers
for a journal issue on climate philosophy. (Full disclosure: the mad Hun serves as the issue editor.) We invite submissions on any of these questions:
1. (
NORMATIVE
)
Does climate change necessitate a re-evaluation of values, and if so, in what way?
2. (
META-ETHICAL
) By definition, any sound policy response to climate change consists of values informed by factual constraints.
Does the existence of a budding climate ethics serve to falsify the dogma of the naturalistic fallacy?
3. (
EVOLUTIONARY
) Conventional approaches to climate ethics use standard tools such as the precautionary principle, the rate of discounting, the principle of utility, or the rationality of the market. Conventional quandaries are the difficulty of measuring catastrophe, the problem of sacrifice, and paradoxes of future generations. Overall, such discourse engages with climate change in terms of threats, risks, and costs.
Is this the best we can do, or are there more creative, perhaps more enlightened ways of conceptualizing climate change? For example, is climate change an opportunity for social evolution, and if so, how?
Selection of publications is a blind review. Kindly do not send submissions to me, but instead to the general editor, Michael Goodman, at Humboldt State U, (mail to mfg1 @ humboldt. edu)
See the
submission guidelines
,
journal policy
, &
board of advisors
.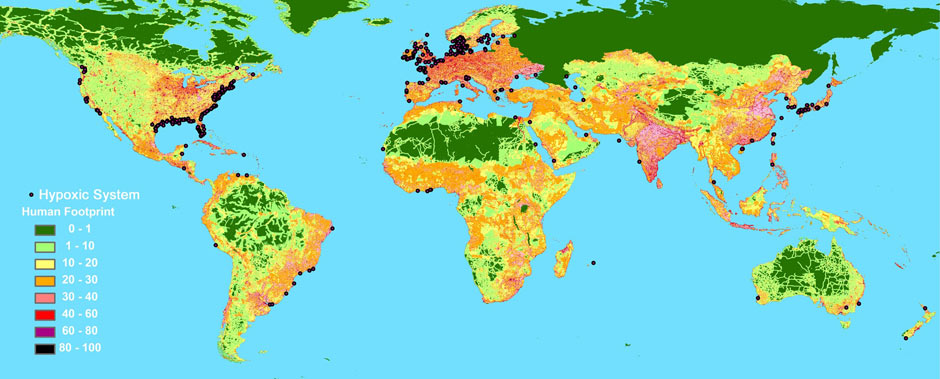 map of world's ocean dead zones August 2008 (click to enlarge)

CLIMATE EVENTS

... ocean dead zones are spreading farther 8.15.
... ocean dead zones on the rise 8.14.
... California most pricey firefight season ever 8.13.
... arctic meltdown data review 8.13.
... Earth's frogs vanish due to fungus & climate 8.12.
... New York climate shifts bird species boundaries 8.12.
... arctic meltdown speeding up 8.11.
... Israel water shortage 8.10.
... Texas sets new heat record 8.8.
... arctic summer ice vanishes 8.4.
... Northwest passage may reopen 8.3.
... Canadian ice shelf loss 7.30.
... Alaska summer cold record 7.24.
... Philippines global warming and dengue fever 7.23.
... Earth sees precipitous rise in extreme rainfall 7.21.
... Earth's wettest place gets drier 7.21.
... US 2008 severe weather season (June)

CLIMATE POLICY

... New York studies climate stress on infrastructure 8.12.
... South Africa's ambitious climate policy 8.3.
... US EPA sued over greenhouse gases 7.31.
... Japan's climate action plan 7.29.
... US EPA silences employees over climate 7.29.
... calls for US EPA chief to resign 7.29.
... failed US voluntary emission reduction 7.24.
... Germany's ocean wind park 7.22.

GLOBAL MILIEU

... US suburban home prices keep falling 8.14.
... US home foreclosures keep rising 8.14.
... US consumer prices shoot up 8.14.
... M. Klare: Georgia v Russia all about oil 8.13.
... the future of US suburbia 8.12.
... biggest drop in US oil demand in 26 years 8.12.
... British climate protest 8.11.
... M. Binyon: Putin's mastery, Bush's checkmate 8.11.
... G. Spörl: Rußlands Rache für Bushs Fehler 8.11.
... M. Whitey: Bush's defeat in Georgia 8.11.
... G. Brecher: war of my dreams 8.11.
... C. Kupchan: les Etats-Unis dans une position maladroite 8.10.
... the Georgia/Russia pipeline war 8.10.
... 'watershed' US dollar jump 8.8.
... Oil bubble burst 8.8.
... half of world's primates face extinction 8.5.
... Oil prices cool off 7.30.
... NYC kids burned by sizzling playgrounds 7.20.

ENLIGHTENMENT

... California plans two solar plants 8.14.
... P. Krugman: things can fall apart 8.14.
... O. Tickell: no adaptation to a planet 4C hotter 8.11.
... waning warming debate 8.11.
... NYC "seals the street" for car-free day 8.11.
... J Kunstler: pre-crash symptoms 8.11.
... T. Friedman: Denmark rules 8.9.
... K. Rainsberger: living simply in USA 8.9.
... T. Friedman: know-nothing US politics 8.8.
... US colleges move to eject cars (except USF) 8.6.
... M. Morford: vote for Bush? Pay up! 8.6.
... D. Meyer: an uneasy America 8.5.
... G. Monbiot: stakes couldn't be higher 8.5.
... D. Lindorff: US -- how to cut down fuel bill 8.5.
... T. Friedman: learning to speak Climate 8.5.
... P. Krugman: can this planet be saved? 8.1.
... Japan solar energy in space (June)
... A. Basit: humanity at crossroads 7.30.
... (not climate, all about enlightenment) Thai trannie toilet 7.29.
... J. Kunstler: primed for implosion 7.28.
... NZ students try to arrest Chevron's Altair Voyager 7.26.
... US -- a nation of lemmings? 7.24.
... half of Amazon lost by 2030 7.22.
... Ford veers from SUV's 7.22.
... US train ridership up 7.21.

DISENLIGHTENMENT

... B. Lomborg: silly 4 C rise prediction 8.15.
... no car pool parking discounts at USF 8.12.
... Sudan lives on handouts, exports food 8.10.
... US Senator Mark Pryor, Arkansas (Repub.) 8.10.
... R. Rosenbaum: all for 'even-handed' climate journalism 8.8.
... (Slate apologizes for R. Rosenbaum's piece, sort of) 8.15.
... trash in Bush's failed marine national monument 8.7.
... the new atomic-propulsion US military landing crafts 8.3.
... 1 in 4 of all prisoners worldwide jailed in USA (July/Aug)
... Exxon Mobil biggest profit ever 7.31.
... US offshore drilling v. climate 7.29.
... US Atkins diet v. climate 7.29.
... bottled water v. climate 7.26.

CLIMATOLOGY

... Brazil agriculture predicted climate loss 8.11.
... US gringo cuisine v. climate 8.3.
... climate change and allergies 8.2.
... global warming's fish-sex effect 7.31.
... climate change and health hazards 7.21.
... S. Jevrejeva, "Recent global sea level acceleration started 200 years ago?" Geophys Res Let 35 (2008) doi:10.1029/2008GL033611
... F. Pearce, "Climate: the next ten years," New Scientist 13.8.
... G. Yohe et al., "The Stern Review and the economics of climate change," Climatic Change 89 (2008): 231-240
... Q. Schiermeier et al., "Electricity without carbon," Nature 454 (2008): 816-823
... G. Lenderink et al., "Increase in hourly precipitation extremes beyond expectations from temperature changes," Nature Geoscience 1 (2008): 511-514

OLDER BUT RELEVANT

... shrinking the carbon footprint of metropolitan America 5.29.
... next decade 'may see no warming' 5.1.
... N. Keenlyside et al., "Advancing decadal-scale climate prediction," Nature 453 (2008): doi 10.1038/nature06921